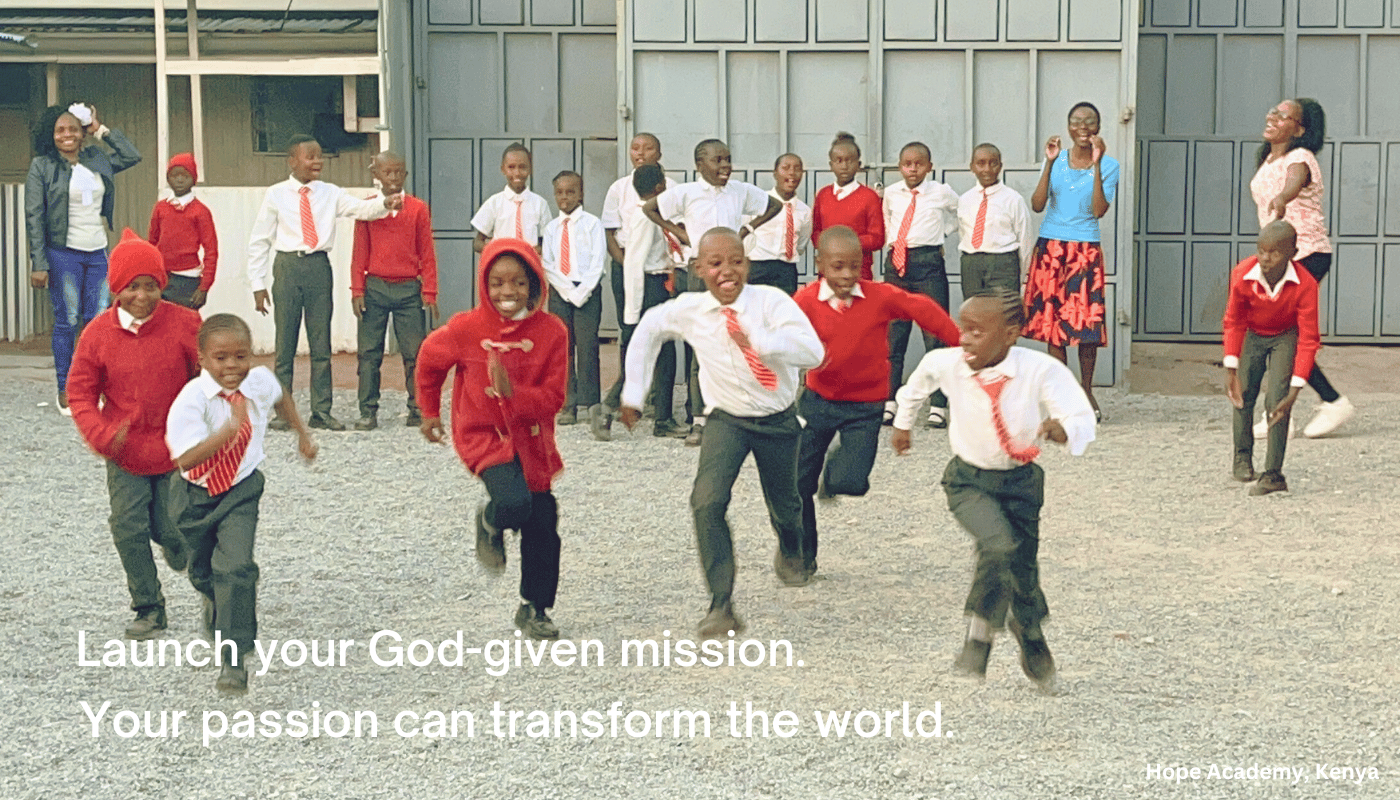 Partner with a Fiscal Sponsor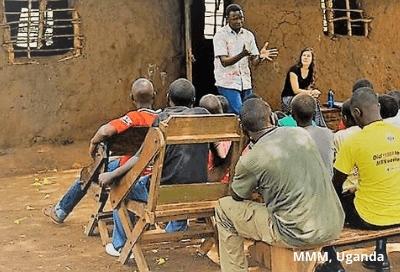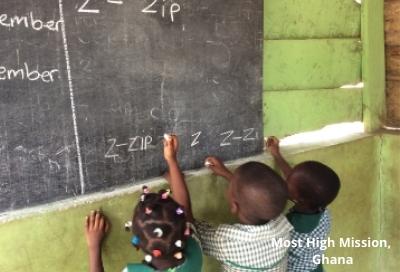 We are excited to announce that we exceeded our goal by raising $8,200 for at-risk youth!!
If you didn't have a chance to make a donation and would like contribute to at-risk youth, there's still time to donate to the JAM Run fund.
Thank you 2023 EVENT SPONSORS
Leyla Brenneman
Daan and Rebecca Klem
Michelle Strangis and Steve Pincus
Mark and Gayle Stage
Jill Hall
Sherry and Bob Brenneman
Herb and Barbara Klem Celebration Fund
Dave and Nan Muhovich
Anna Muhovich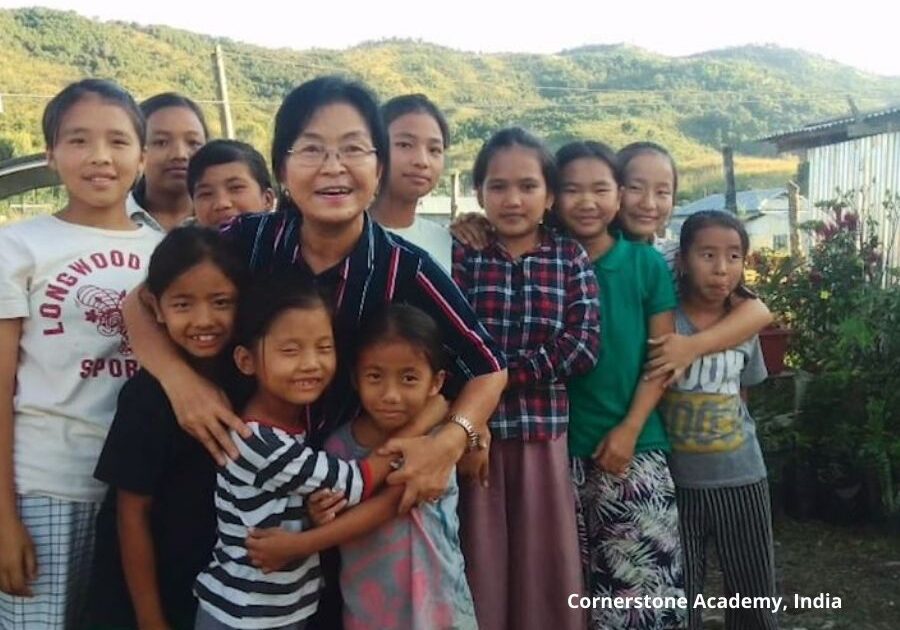 Let us handle the paperwork.
Global Horizons Inc. has been a platform for launching Christian mission projects and missionaries since 1994.
As a fiscal sponsor, we come alongside leaders who have a vision to see communities growing and thriving as God intended.
Our partners are inspiring hope and creating change, locally and internationally.
GHI is passionate about mobilizing leaders who seek to:
validate the honor and dignity of all creation
create environments and activities leading to reconciliation
empower marginalized people to become all that God would have them become
How Fiscal Sponsorship Works
Quick, simple, and low-risk
Truth is, creating and running a nonprofit takes more time, effort, and money than most people realize. It's like starting your own business! On the other hand...
Fiscal sponsorship is a quick, simple, and low-risk way to launch and manage your mission project--all without the added stress.
Rather than doing it alone, you can partner with a fiscal sponsor who understands the nonprofit world and your heart for the mission.
Fiscal sponsorship will give you credibility and legal status as a nonprofit, so you can start raising funds and helping people right away.
You can focus on growing your impact, while your fiscal sponsor handles the everyday administration and operations of your mission project.
No need to register for nonprofit status.
No need to learn how to manage a nonprofit.
And, you won't be doing it alone.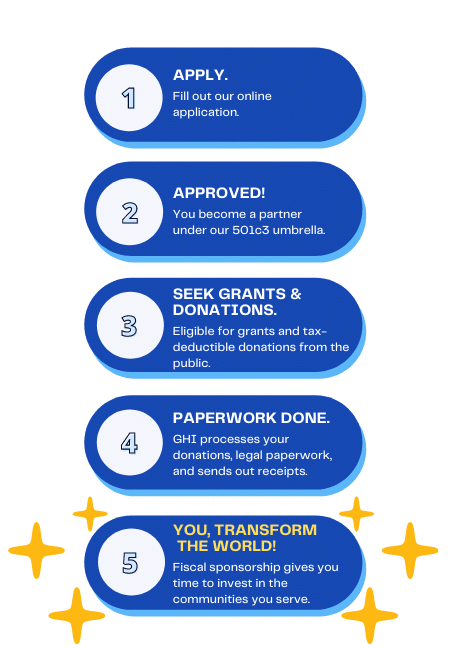 Reclaim your time and focus through Fiscal Sponsorship,
so you can make a global difference.
Why Partner With Global Horizons Inc?
God did not intend for us to do ministry alone.
We believe God has called you to realize your mission idea, and we want to support your journey.
We can do that by providing you with fiscal sponsorship. This makes it simple to start your mission project and provides you with the support you need to keep everything running smoothly on the backend.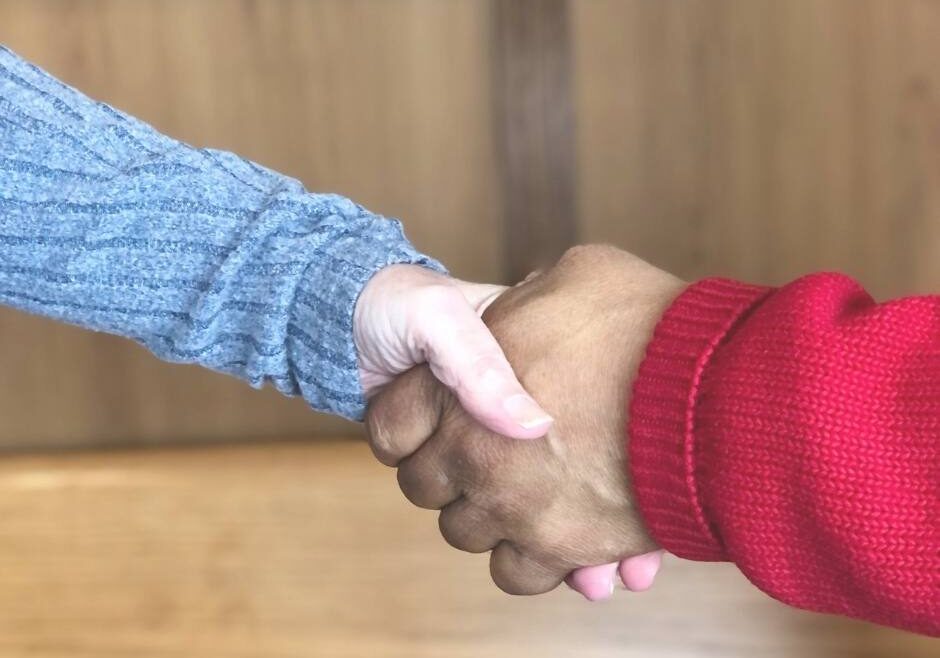 You will become trusted by grantors for funding.
We have over 25 years of experience in the nonprofit sector and have processed millions of donations. Both large and small local and international mission projects thrive with our partnership, and grantors feel confident about giving to our mission projects.
You will receive operational support.
Our skilled team will handle your ongoing backend needs, like bookkeeping and donor tracking. We also provide reliable support for your fundraising and marketing needs. This way, you don't have to manage the details, and you can focus on growing your mission impact.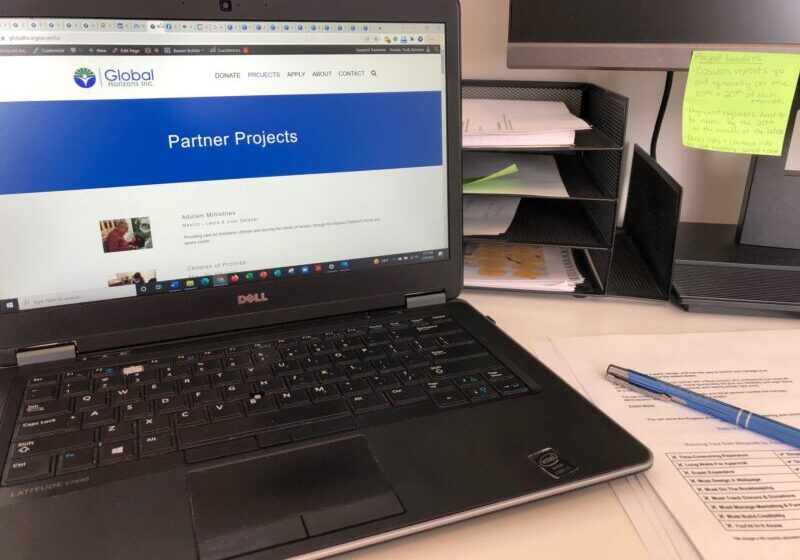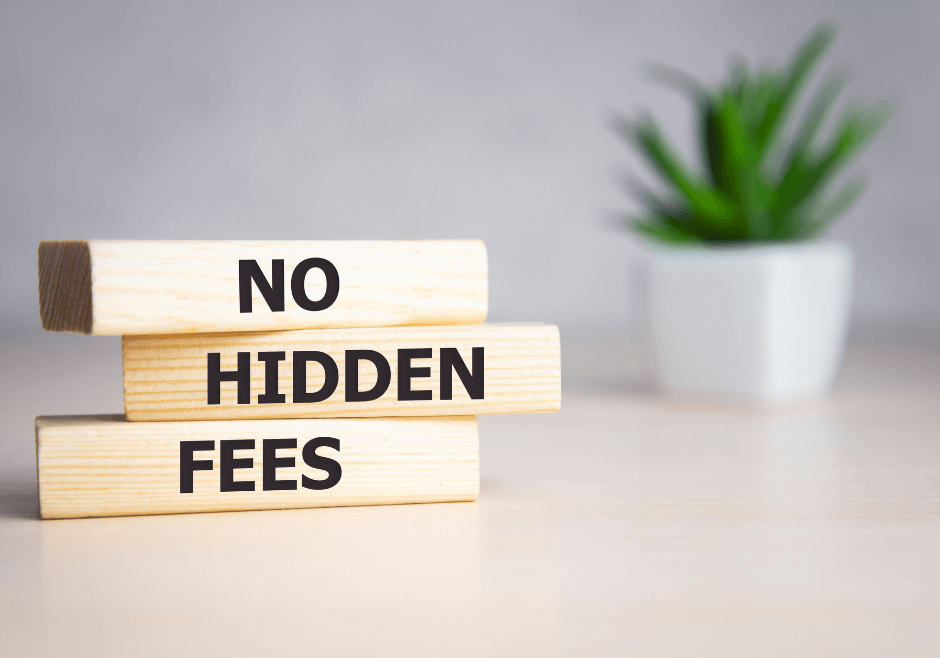 You will access our full benefits, at a low cost.
If you do it alone, it will cost you exponentially in time and money. You will need to learn each of the administrative roles and put your own systems in place. On the other hand, our full range of services only costs a 9% allocation fee, which is lower than the industry standard.
You will get prayerful guidance and expert coaching.
When you partner with us, we will commit your project to prayer and offer our nonprofit expertise. Our program is built on a strong, Christian foundation, which we will uphold in all our interactions.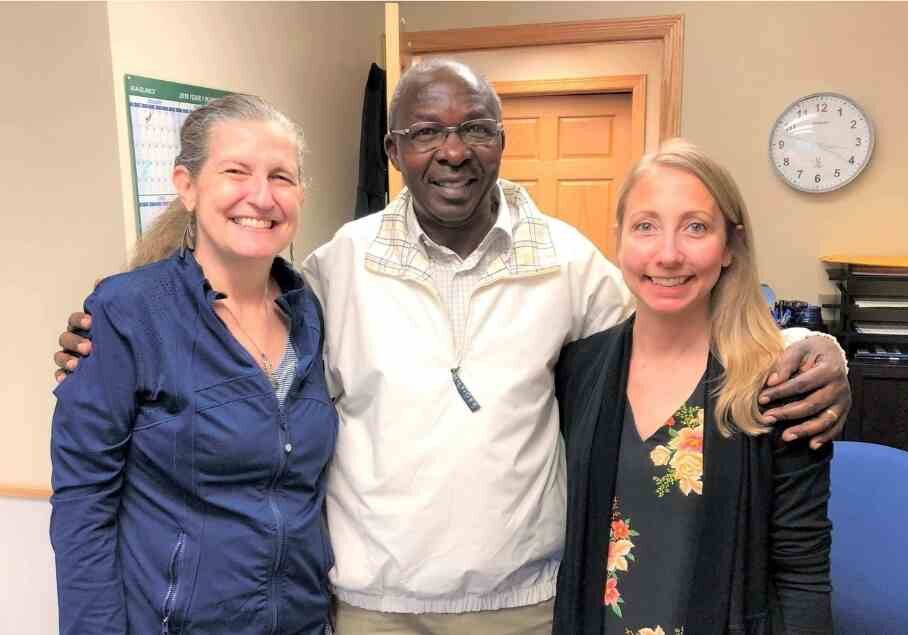 Running Your Own Nonprofit
Long Waits For IRS Approval

Must Track Donors & Donations

Must Manage Marketing & Fundraising
GHI as your Fiscal Sponsor
Low Fee* & No Hidden Costs

Webpage Design - Done For You

Bookkeeping - Done For You

Donation Processing - Done For You

Support in Marketing & Fundraising

Highly Credible Right Away

You Have An Expert Partner
  *We charge a 9% monthly allocation fee. The average fiscal sponsor charges 10% or more in allocation fees each month.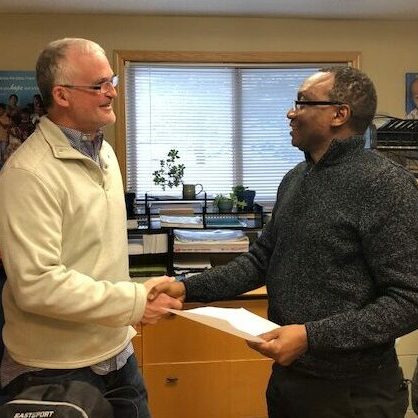 Getting Started Is Simple
Think we would make a great team? Here's how you can apply for fiscal sponsorship with us.
Review our Partnership and Commitment Levels 
Schedule a free discovery call
Complete the GHI Partnership Application
We will let you know once your project is approved, and we can get started right away.
If you have questions about our application or fiscal sponsorship in general, we would love to hear from you. To schedule a free discovery call, fill out our contact form or call our office at (612) 294-0419.
We can't wait to hear from you and learn how God is working through your mission project.
We partner with large and small mission projects and missionaries all across the globe.
We currently act as a fiscal sponsor for projects within many fields:
Christian schools, pastoral and leadership training services, reconciliation, church planting, children's ministry training, community development projects, refugee services, gender equality initiatives, missionary care, healthcare in rural communities, mentoring for at-risk children, and much more!
What Our Mission Projects Are Saying
For almost 17 years, Global Horizons Inc. (GHI) has been my fiscal sponsor. They have been the best!
When I began my nonprofit, I had no idea what I was doing or where to turn. GHI has guided me all the way - setting up a Board, receiving donations, sending out receipts and letters, offering seminars of great teaching and help, and promoting my ministry of Designed To Be Pillars online. What they ask of a ministry to undergird their own costs is the lowest of any fiscal sponsor I'm aware of.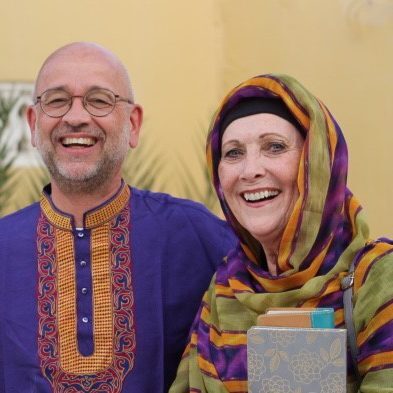 Ruth Conard
Director, Designed to Be Pillars
The support and partnership I have received from GHI have been invaluable. They serve patiently and diligently in processing, reporting, and getting funds to me, monthly. I have one less thing to worry about, and this frees me to do ministry here in Cameroon.
They have prayed with me and encouraged me at some low points during the start of my ministry. I thank God for their faithful and servant-hearted service.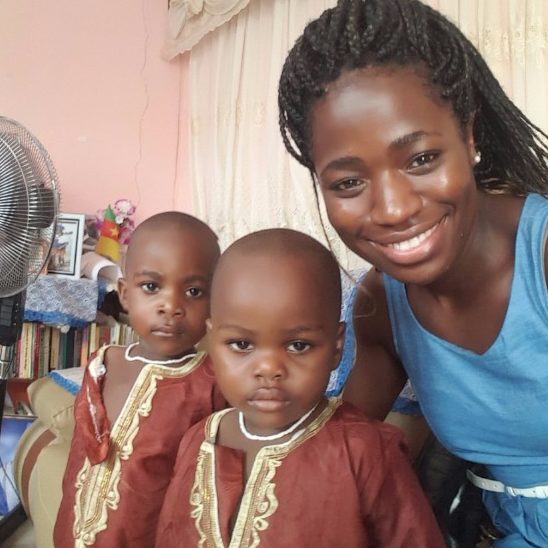 Emmanuela Nyam
Director, Children Treasuring Christ
Checks can be mailed to:
GHI (or Global Horizons Inc.)
PO Box 64059
Eagan, MN 55164-0059
We are located in the River of Hope Church Twin Cities building.
3300 University Ave. SE
Minneapolis, MN 55414
(612) 294-0419