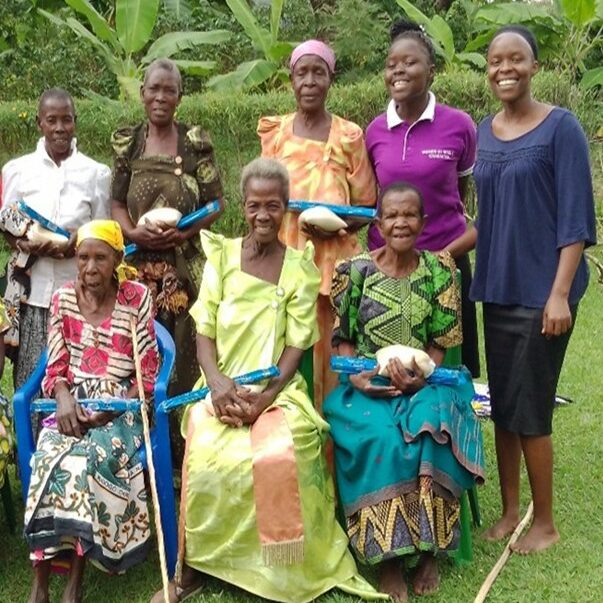 After taking numerous students on mission trips to Uganda, Professor Nan Muhovich created a partnership with Kimwanga Widows and Global Horizons Inc. to help the project gain support and access to resources.
Kimwanga Widows Project was founded in 2012 by Ugandan local Solomon Shisa to support vulnerable elderly widows caring for children, without any income,  and/or battling illness without any support.
Our vision is to provide lasting hope through compassion by holistically empowering widows for sustainable living as they age. Objectives: (1) Empower widows spiritually through spreading the gospel of our Lord Jesus. (2) Improve health through quality medical care; (3) Promote self-dependency; and (4) Promote Income Generating Activities (IGAs) such as providing a goat to each woman in the program.
Currently 53 widows have been identified for sustainable elderly living, in rual areas of the Mbale District, Uganda.
The Kimwanga Widows Project provides preventative health care by providing mosquito nets, employing 14 points of a healthy home curriculum, first aid treatment, and visits from a volunteer heath worker. Women are learning sustainable income generating activities such as goat rearing, poultry care, and handmade crafts. Bible studies are held monthly for fellowship and prayer. The most vulnerable women are supported with essential basic needs of food, clothing, and shelter.
Your donation of $40 per month will meet basic needs of food and shelter for one elderly widow. 
"When I was spotted by papa Solomon, he offered to support me under Kimwanga widows. Other widows suggested we could start saving some small amount of money to support ourselves with small basic needs. I have never regretted this moment, I can afford a meal, and buy scholastic materials for my children. I gained trust in God that it is only Him who can sustain us whether we have a husband or not...I no longer cry so much because I have hope."                                                                                     - Aidah
For the latest news and stories...
Would you like to know more?